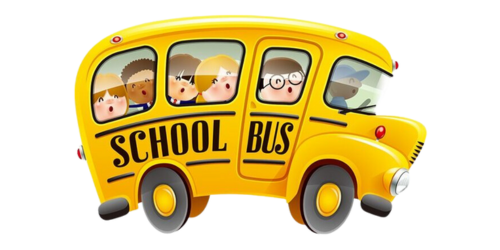 To register your child for bus services, please complete a Bus Registration Form using the button above. Please note that bus services are not permitted for students on inter-district petitions. Parents, please be advised that it will take 48 hours for your child's transportation to commence.
The bus rider shall obey all bus rules:
Students shall follow the instructions and directions of the bus driver at all times.

Students are required to ride their assigned bus route only.

Students shall arrive at their bus stop five (5) minutes prior to the pick-up time and stand in a safe place at the stop.

Students shall enter the bus in an orderly manner and go directly to their seats.

Students shall sit down and fasten any passenger restraint systems. Students shall remain seated while the bus is in motion.

Students shall not block the aisle or emergency exit with body or personal belongings.

Students should be courteous to the driver and to fellow passengers. Vulgarity, rude, or abusive behavior is prohibited.

Any noise or behavior that could distract the driver, such as loud talking, scuffling or fighting, throwing objects, standing, or changing seats, is prohibited and may lead to suspension of riding privileges.

Electronic devices (Cell Phones, Earphones, etc.) are not permitted on the bus.

Students shall not put any part of their body out of the window nor throw any items from the bus.

Students shall help keep the bus and the area around the bus stop clean. Students shall not damage or deface the bus or tamper with bus equipment. Parents/Guardians will be financially responsible for any damage.

Upon reaching their destination, students shall remain seated until the bus comes to a completed stop and upon the signal from the driver, unfasten any restraint system, enter the aisle, and go directly to the exit.

Student should be alert for traffic when leaving the bus and shall when crossing the road and exiting the bus.
If a student violates any of the above rules, the driver will contact the Site Administrator.
East and Kinder Route Schedules
For any questions regarding bus schedules please contact Liz Camarena at (760) 337-6530 ext. 2494